(Lets pretend that I haven't missed nearly a month of reviews, shall we?)
In the last week of January, I said that I had two books for my challenge:
Unapologetic
by Francis Spufford, going under the
Nonfiction
slot, and
The Sweetheart
by Angelina Mirabella, for my
January Debut
book. I have good news and bad news and ish news. I finished
Unapologetic
for that week and it was pretty good! Bad news is that I did not get through
The Sweetheart
, instead putting it on my DNF list. The ish news is that I read my January debut book after all, even though the author has been published before.
But first,
Unapologetic.
This book was written by a British chap a few years back, and its subtitle is
Why, Despite Everything, Christianity Can Still Make Surprising Emotional Sense.
Christianity is, if Spufford is anyone to believe, very different across the pond, and so some of what he says about the American church would probably badly offend a good portion of us over here. Still, the meat of what Spufford says carries out the stated message of the subtitle fairly eloquently (though with a lot of F-bombs - something that I'm sure we'd also get our feathers ruffled for.)
Nevertheless, Spufford has a strong sense of self-awareness, and I think that's a valuable commodity that a lot of the American Protestant church lacks. But he never lets up on the utter respect and awe of God, which makes for a realistic yet deeply spiritual little book that I desperately need for my shelf.
9/10 would recommend to anyone interested in Christianity and what it means and how it works emotionally.
And now, onto my
January Debut
book:
All The Bright Places
, by Jennifer Niven.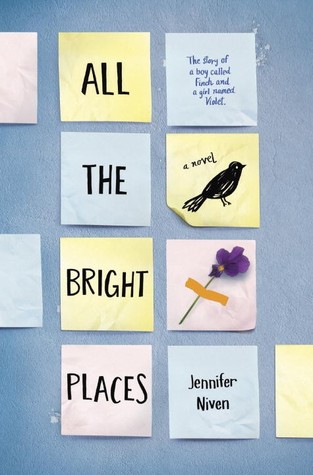 If you're anywhere on Goodreads or probably any of the other various online book catalogue systems, you've probably seen this. It's not the kind of book I usually go for. It's got JUST LIKE JOHN GREEN! JOHN GREEN STYLE! BASICALLY THE NEW FAULT IN OUR STARS! DID WE MENTION JOHN GREEN!-esque marketing, an immediate turn-off. I'm not a John Green fan (Paper Towns and Looking For Alaska can both be found on my the-stupid-it-burns GR bookshelves). Not to mention this just isn't my genre. And it's got such a hipster title.
To be honest, I don't know why I put this on hold at the library. Maybe because I just couldn't get past The Sweetheart's length and its second-person POV, and this was the only January release-date book that the library had that looked any good.
I'm really glad I picked it up.
I can see the appeal for John Green fans. It's that kind of book. But it's not John Green, and it garnered five stars from me. The funny thing is that a lot of people hate it for the same reasons that I tend to hate John Green books (except for TFiOS, I liked that one moderately). This means that I am, in all likelihood, a hypocrite. But moving on to All The Bright Places! (Ugh. I can't get over that title still.)
It's a suicide book, like TFiOS was a cancer book (so if that's a touchy subject for you, please stop reading). Unlike cancer, suicide is kind of a topic I know a bit about, at least from the inside out. I've never been affected by losing someone to it, thank God. So the stuff that Violet and Finch go through - mostly Violet, though Finch to some degree, too - is a subject pretty close to me. Maybe that made me blind to whatever unapologetic [see what I did there] pretentiousness it has, but even if it didn't, it made me connect with this story to a degree that I don't think I ever have in a "real-life" sort of book.
I will admit that the ending had the kind of dragging, emotionally exploitative ending that I loathed in Looking For Alaska. I stuck out this one because I actually loved both Violet and Finch, and, while a little bit trivializing, this one had more punch. And it was worth it at the end.
Reading some of the more negative reviews, I find I can't argue with most of them. Especially when I say the exact same things about John Green! It's a very frustrating position to be in, forced to see myself as the curmudgeonly, spiritually-fifty-four-years-old fun-sucker that I am, hating on young cancer love and dead author quoting. (At least Niven had the decency to force her characters to Google Virginia Woolf quotes to keep up their facade, for gosh sakes.)
However, there is one area I want to defend ATBP on: the idea that it gives no hope for kids who are suicidal. I saw at least one reviewer who said something to this effect. While no one person is the same, I can't say that I found this true for me. I wouldn't go shoving this book into every suicidal or borderline kid's hands, because it made me feel a lot of things and not all of them were positive, and it might be too much for some. Still, there was hope to be found. It's called All The Bright Places for a reason. It was even, dare I say it, inspiring.
So, while I did cheat a little bit - on the first month, no less! - by not reading a true debut, I can't say that I regret the choice. ATBP is a new favorite and I need a copy as soon as possible.