This review is actually for last week's book, which I didn't get to because of extenuating circumstances. And that's my excuse for not having a review for this week -
homework.
Forgive me. Just when I was caught up, right? Oh, well. Summer break is coming.
But last week, I was successful, with both completing the book and enjoying it. Behold: my review of the inimitable Stephen King's
On Writing
.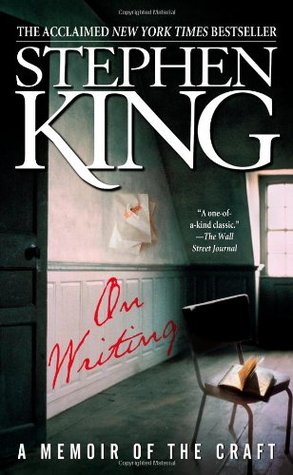 Before I dive into the review, I should admit that I have only read one piece of King fiction before, and that's not even one of his horror ones: it was
The Dark Tower
, which I enjoyed greatly despite being really confused. I've read more Stephen Lawhead than Stephen King - perhaps a crime, perhaps not.
But I am a huge fan of King himself, and his attitude towards writing. He's hilarious, for one thing - don't let the horror thing scare you away. He's a witty guy. I had to put the book down a couple times to laugh (the poison ivy, oh my gosh).
But more than that, he's experienced. He's got a lot of disappointment and success and years under his belt. It doesn't matter that I don't gel with 100% of his opinions on writing and the writing process; I still have to respect them, because he has for sure been doing something right. He doesn't command respect, but you can't help but give it to him, reading this book.
He's also genuine. Any writer that doesn't let you in on the hardships that come with fiction-writing are selling you something, and King never does this. He's truthful, and his transparency makes this easy to read, both physically and spiritually, if that makes sense.
If you're a writer, please read this (unless language really bothers you/would distract from his message). Just to know the experiences of an author who's more experienced than 95% of us writers-to-be ever will. And if you're not a writer, why not read it anyway? It's relatively brief, and if you want some King context, it'll be fun. I don't know any reason (besides the language, for my more sensitive audiences) why I wouldn't recommend this to anyone.